About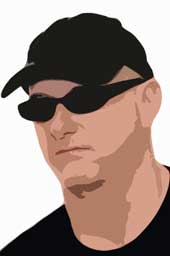 PW by Derek Plank
Pierce Williams is a graphic artist who has worked in a variety of media, including sculpture, stencil prints, silkscreen prints and clothing, rock posters, and web/graphic design. He has curated over 40 art exhibitions. He has appeared on radio and national television. His work has been shown throughout the United States, as well as; Japan, Spain, Iceland, Italy, Belgium, and the UK.
CONTACT

Radioactive Future specializes in web & graphic design for the entertainment industry. We have completed projects for a wide variety of businesses, individuals and organizations.

TESTIMONIALS
"San Diego Art Institute commissioned Pierce to make a unique stencil design for a recent event. Audiences of all ages responded positively to him and loved seeing him make the work on-site in front of them. We're looking forward to continuing our relationship with him and working with him on more projects!"
>> Ginger Shulick Porcella, Director, San Diego Art Institute
"I really appreciate the speed and efficiency of working with Pierce. Great designs and creative work is also an added bonus. I would recommend hiring Pierce for your creative and art direction needs."
>> Lou Niles, Film producer, Event Producer, On-Air Personality, 91x
"Pierce handles all of his creative endeavors with the utmost professionalism and attention to detail. Whenever I've worked with him, he's always come through with great creative concepts and produced the finished product with lightning speed. I would recommend Pierce for anyone who is looking for great visual design in any medium."
>>Timothy Joseph, Musician Buckfast Superbee (Band), The Palace Ballroom (Band), On-Air Personality, FM 94/9
"Pierce has a very clever artistic style that combines a vintage look with a modern edge! He does great work for his clients!"
>>Brian Rash, Musician Just in Case (Band)
"I can't say enough about Pierce, but his incredible art and ease to work with speaks for itself."
>>Timothy E. Pyles, On-Air Personality, 91x
"If you are in a band, and need help with visual media such as logos, album artwork, and show flyers, I highly recommend Pierce Williams. His turnaround on projects is exceptionally fast and he understands your vision, as a band. I will continue to use his services for all my band's visual media needs."
>>Chris Punch, Musician Punch Card (Band)
"Pierce and I have been working together for over 10 years. Because of his talent and professionalism I work with him exclusively for all of my web and graphic design projects."
>>Sulo King, Owner Iacon Sound
"I have worked with Pierce now for over a decade. Whether it's fulfilling a need for graphic design, web design, or creative artistic work he has always been able to turn my ideas into finished products quickly and accurately. I'm yet to meet a more well rounded artist. "
>> Jaret Jahn, former owner Brick By Brick.
"Pierce Williams is by far the best graphic artist that we have ever worked with. Pierce delivers in a professional and friendly manner, and at a fair price. You will not find a better service out there. "
>>Brittni Cute
"I worked with Pierce on many website and rock poster projects. He came up with some great ideas, was able to make changes and adjustments as needed on a quick basis, and the overall end product was exactly what we hoped for. "
>>Tim Mays, owner of The Casbah
"I highly recommend Pierce and his web & graphic design skills. He was great to work with, very responsive and got things done quickly. His layout and design really improved the appearance of my site, made it much more professional and appealing. "
>> Tim Cooper, Founder of The Consulting Garage
"Pierce responded quickly to our website and graphic design needs and did so at a fair price."
>> Sam Chammas, Owner, The Whistle Stop Bar
"What sets Pierce Williams aside from other graphic artists is his background in art and his attention to detail. I highly recommend Pierce for any project."
>> Stefano Brunetto, Owner/Manager, Mona Lisa Italian Foods
"Pierce Williams has worked for many years on my website and graphic designs. His work is top quality, his prices are fair, and his expertise is excellent."
>>Tony Iaquinta, owner, Bull's Smokin' BBQ.
"Pierce Williams hosted a themed stencil art activity at the Vista Library during our Everything is From the Streets Lowrider Documentary Screening and Car Show. He worked through a big crowd quickly and was lots of fun. We'll have him back soon!"
>>Orquidia Contreras, Youth Services Librarian II, San Diego Public Library, Vista Branch.
"After working together for a few years, Pierce has proven to be extremely quick to respond and a pleasure to deal with. The quality of work he delivers and the quick turnaround is unmatched and his pricing is very reasonable."
>>Casey Barmakian, owner Barmak Systems & musician.
"I would just like to say I loved working with Pierce. I saw his poster for a show I played and was blown away. I had to find out who did it. I tracked him down and he was kind, fast and perfect in his execution of the project I needed. Probably the greatest experience I have had working with an artist."
>>Jason Rain, musician Wolves of Eden.
"Professional, friendly, creative, detailed, organized, prompt and motivated. All this AND a sense of humor! Highly recommended. 11/10. Would Radioactive Future again."
>>Pete Egersheim, musician Making Incredible Time.
"I absolutely love working with Pierce! He is my go to every time I need great art to promote ANYTHING!"
>>Rachel Fankhouser-Mestaz, Talent Booker; Manager Roman Watchdogs.
"I've been coming to Pierce for almost 2 years now, any time I need something artistic done for my band. He is professional and has a great attention to detail. It is always a pleasure to work with him.
>>Corey Streeper, Musician The Dangerfield.
"My band has had the pleasure of working with Pierce over the last year. He has a helped create visual art for our merchandise that a DIY band can afford. He has an eye for putting show fliers together that are no joke, in no time at all, which I believe has helped turnout at ours, and fellow SD punk band's shows! Thanks Pierce!
>>Jeremy Taylor, Musician The A-Bortz.
"I have always been a fan of Pierce's work and when I finally got the privilege to work with him I was just amazed at how fast and easy he made things for me. I am really looking forward to working with him in the future and highly recommend him to anyone for graphic work.
>>Remington Randall Ross, Musician WithOut Papers, Ten Years Big.
"Pierce's art combines a retro-classic feel with a modern day pronunciation that marries the two, creating an artistic product that stands alone. But beyond the art, is the man who actually cares about the other artists whom he is promoting in his designs. He does so respectfully, tastefully, and creatively. It has been a pleasure working with him, and I look forward to working together again in the future.
>>Rice Enright, Musician Authentic Sellout.
"I worked with Pierce when I consigned some of my art & rock poster prints to him. I also showed some of my fine art in a few of his pop-up galleries around San Diego. Pierce was always very honest and trustworthy. My artwork was taken care of and respected, so was our business."
>>Marc David Almera, Graphic Designer and Fine Artist MarcoAlmera.com.
"Pierce is a talented and hardworking individual that strives to exceed expectation. He is truly passionate about his work and is an "outside of the box" thinker. Pierce was an asset to the team and his contributions were always exceptionally valued."
>>Randy Swisher, National Account Executive
"Pierce has always been an enthusiastic participant and supporter of the San Diego art scene. He goes above and beyond in promoting other artists and entrepreneurs. Pierce is definitely a doer. His online marketing skills in addition to his ability to organize events and create striking works of art make him an asset to the community. Pierce has the unique ability to play the role of both artist and businessman. He has always been a pleasure to work with."
>>Derek Plank, Photographer derekplank.com.
"Pierce is a passionate, creative and values driven leader. Working with him on multiple art based and creative projects, I have seen first hand this ability to bring people together, create strong messaging and build a successful project from the ground up!"
>>David Andrés Kietzman, Social Impact Leader and Managing Partner Momentum Solutions.
"I've been seeing Pierce's artwork for many shows in San Diego. I really dig the old science fiction vibe. He has done several flyers for us, and the artwork is top-notch! Great stuff!"
>>Dave Masur, Musician Stalins of Sound.
"Pierce is perhaps one of the most talented visionary producers I have met in the field of event production. When I was first starting in my career, he was leading the scene in San Diego with multidisciplinary events that offered immersive experiences in Performance, Music and Art. He was known for having the cream of the crop in talent and being consistent with his presence in the community. I collaborated with Pierce on multiple occasions and admired his high degree of professionalism and ability to visualize large scale projects. To fellow Artists, he was a trusted friend and mentor, someone who would gladly share advice based on personal experiences. Many great San Diego artists owe their start to Pierce. I am grateful that our paths crossed and hope that our artistic collaboration continues into the future!"
>>Patty Rangel, Marketing & Public Relations at San Diego Repertory Theatre / STEAM VR Mixed Reality Producer/Director.
"I hired Pierce to help me with a promotional campaign and I couldn't be happier. His poster design was just what we needed – eye catching, engaging, and clearly communicative. Pierce has been easy to get a hold of and quick to respond throughout the process. I plan on recommending him to others."
>>Pete Bayard, Communications and Event Management Specialist & Musician Super Buffet.
"I recently had the pleasure of working with Radioactive Future in producing artwork for a marketing campaign. Correspondence was outstanding and attention to detail was spot on. Pierce's ability to take client suggestions to the next level with his keen eye for natural aesthetics is truly remarkable. Everything he produced was what I wanted plus so much more. I will certainly be working with Radioactive Future again on upcoming projects, and I strongly recommend any and all to contact him for any of their art / graphic design / web design needs."
>>Jacob Bruggema, Musician No Skill Required.
"Pierce and RadioActiveFuture.com projects have been an important asset to the arts in San Diego. For well over a decade he has provided valuable resources for artists, art professionals, and the broader community. With out of the box exhibitions, contemporary design services, and passionate community leadership. Highly recommended!
>>Eric Wong, Artist, Curator, Art Education Consultant.
ROCK POSTERS 2007-2008
CD COVERS
MarujaH
Authentic Sellout
Globalies
No Skill Required